How Happy are we?
Evolved commenced the journey of developing Conversational AI back in 2019. Developing this technology required a lot of test conversations between EVE and humans. Around that time we started asking a random sample of 1,000 Australians every month how they felt about their last 24 hours and to chat with EVE about those feelings.
The data itself is very thought-provoking and we thought it should be shared. We are calling this new initiative 'The Happiness Project.'
Going forward, we will publish a quarterly report to track the thoughts and feelings of Australians leveraging the power of conversational AI and text analytics.
The headline for this first report is that 80% of Australians are happy on any given day and 20% are unhappy.
The report identifies factors influencing happiness and unhappiness. Factors contributing to unhappiness include significant life changes, health issues, financial struggles, technological advancements, personal issues, and negative work environments.
Factors associated with happiness include:
Just being alive (

joie de vivre

)

Physical exercise

Coping with stress

Socialisation

Accomplishments

Good health

Personal achievements

Good relationships

Well-being

Enjoying the present moment

Financial stability

Positive mindset
The findings emphasise the importance of health, relationships, personal fulfillment, and adopting a positive outlook for overall happiness.
If you would like to access our full complimentary report, please download the PDF here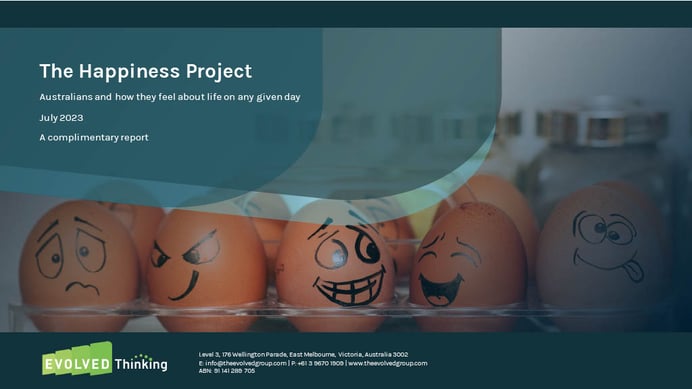 Introducing Text Explorer
The Evolved Group is pleased to announce the beta launch of Text Explorer, a unique text analytics tool designed specifically for conversational data. Text Explorer is for anyone working with text. It is a solution to understanding how people feel, think, and act. It is easy to use, processes large volumes of text quickly, and has tools to replicate traditional survey multivariate methods (e.g. driver modeling). It produces presentation-friendly outputs.
If you are interested in trialing Text Explorer, click here or speak with your account team.
To give you a sneak peek, our Happiness Project provides some examples of its outputs in practice,