What Gen-Z Wants From Your Brand Experience (August 2023)
Ever wondered what Gen-Z (11 to 26 year olds) wants when it comes to expectations of service?
The generation that coined the phrase "ok boomer" constantly defies expectations and can be utterly impenetrable to anyone over the age of 30 (as a parent of four children in Gen-Z, I know this firsthand).
So it was with great anticipation that Evolved partnered up with the Customer Experience Innovation Institute and its Chief Innovation Officer, Simon Kriss, to explore what Gen-Z want from you when it comes to service. Suffice to say, what we found was both surprising and confirmed our worst fears... Read on to find out more and unlock the secrets of today's 'it generation.'
Meaningfully interacting with 1,200 Gen-Z Australians aged 14 to 24 required going outside the usual survey tropes of single and multi-response questions. We loaded up our survey with mobile first interactive user interfaces from Intuify and had our respondents engage with EVE™ conversational AI in a two-way chat. We asked them to share categories they had CX experiences with, how important those relationships are and how they wanted to engage with the important brands in their lives.
Here are the 6 key findings to take away.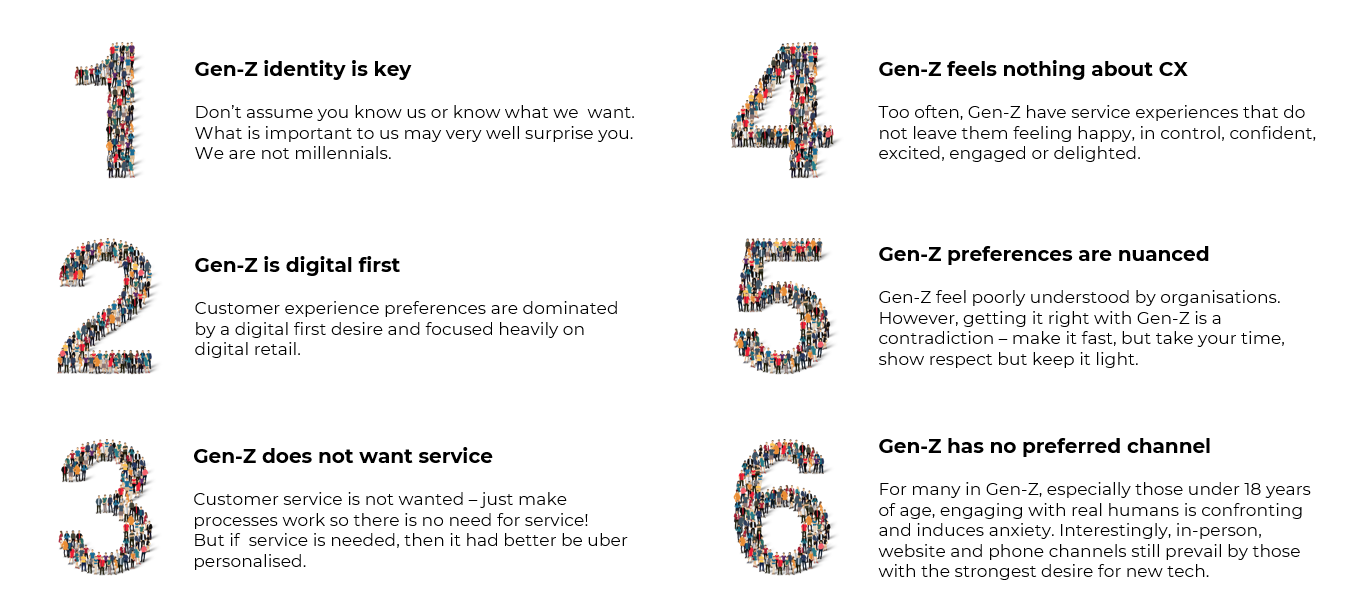 The full findings can be accessed here from the CX Innovation Institute site - Customers of the future. I can also recommend having a chat with Simon as a world expert in his field and author of the AI Empowered Customer Experience. To access the Executive Summary and full report, you can visit this page and contact Simon https://cxii.com.au/research/.
Here are some of my favourite EVE empowered Quotas from our Gen-Z discussions in response to the question -
Hey there! I'm EVE the chat bot. Can you think of a recent experience you've had with a service or product brand's customer service, product or support whether it was positive or negative? I'd love to hear about it! Can you share what happened? What did you like or not like? How did you feel?"
This is an example of how social anxiety pans out and how it affects channel preferences, which in turn impacts cost to serve.
I ordered a new credit card and it was reasonably easy and I received it 10 days later, I was pleased
What else can you tell me about that?
it already had an option for a lost or stolen card, so it was easy to order a new one
Thanks. Could I also get your thoughts about what younger people like you expect when it comes to service. How could they do better?
they only had 3 options, so maybe they should add a few more
Earlier you said when you deal with a Bank, you prefer to "fill in an online request form". Why do you prefer that way of dealing with them?
because I don't like to talk to people
[21 Year Old Female, NSW]
They love having self service channels - digital is such a pervasive aspect of their life.
Instagram messages have been really good in communicating with people across the world who I don't see often
What else can you tell me about that?
Really useful tool that is easy to use
Thank you. I understand you are talking about when brands make it easy for you. Why is that important? Any examples you can share?
It's important because it allows me to talk to people who might not be as tech savvy but can still use the app
Thanks. Could I also ask for your thoughts on what younger people like you expect when it comes to service. How could they do better?
Just to be really understanding to everyone but mostly they are great
Earlier you said when you deal with a Social media – e.g. Facebook, Tik Tok etc, you prefer to "use their customer app on my phone". Why do you prefer that way of dealing with them?
It's the easiest way as my phone is always near me
[17 Year Old Female, QLD]
Yet, there needs to be a human ready to help when things go sideways especially because they want stuff fast!
I had items not received in a video game, and it took a while to contact them. I was angry on how difficult it was to create a support ticket.
What else can you tell me about that?
I was disappointed since the game should have given me the items in the first place anyways.
Thanks. Could I also ask for your thoughts on what younger people like you expect when it comes to service. How could they do better?
They could maybe make it easier to find a way to contact the support team
Earlier you said when you deal with a Online gaming (e.g. Playstation, Xbox etc), you prefer to "email them". Why do you prefer that way of dealing with them?
Because usually when I email them it takes less then a business day for them to reply
[14 Year Old Male, Vic]