5 reasons to choose Evolved Thinking as your Strategic Insights Partner
Market Research has changed a lot over the last decade – perhaps more than at any time before. Our industry and the services we provide to our clients are becoming more technology-driven every day, and this trend is only accelerating.
That said, the traditional underlying exploratory methods we apply to our work remain the same, even if our ways of delivering them to consumers have significantly expanded. Clients are cognisant of the change in which customers are engaging with their brands and are looking to collaborate on innovative solutions to uncover deep, Human Insight.
The core disciplines of success
As important as ever is the ability to take insights and apply them organisationally in ways that are relevant and in formats people can use in their day-to-day job. Insights are only as beneficial as they are relevant, so the core disciplines of success in market research remain:
The art of asking questions
Consolidating feedback
Understanding what it means
Exploring for opportunities
Telling the story and persuading hearts and minds
These are the areas that all market research companies claim to excel, even if there are variable levels of capability, performance and specialisation. For some organisations, it's about applying these disciplines on customer experience and strategic research or possibly qualitative exploration.
So, why work with Evolved?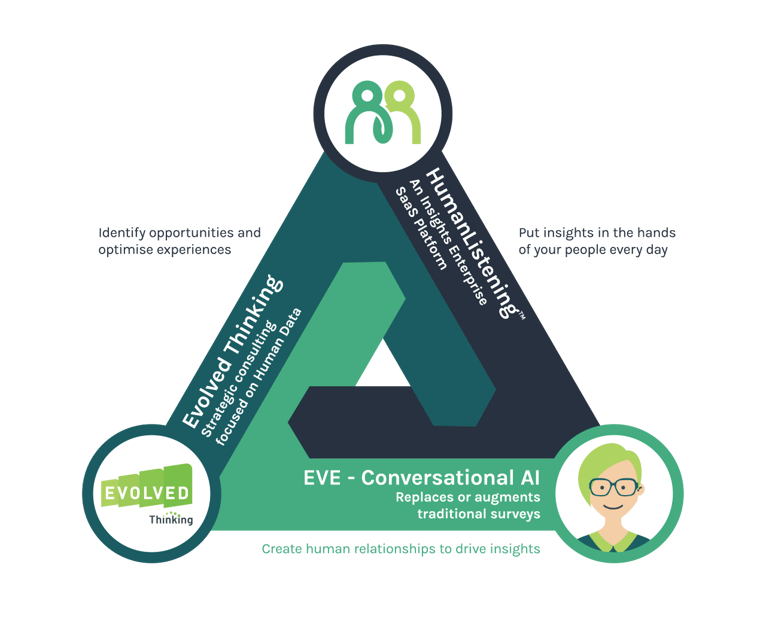 1. Amazing People & Technology
Evolved is a unique combination of consulting research agency and technology company. Technology is applied across every element of what we do, which means we can make things work in ways that others can't. For example, integration with your Customer Data Platform (CDP). We can process hundreds of thousands, even millions of cases of unstructured data (e.g., verbatim from your CX program, customer complaints or product reviews), analysing and visualising results that will engage your internal audience. We use this level of technology to solve problems for our clients, where traditional research companies cannot.
"Evolved Thinking's expert retail consultants are not account managers, they are part of the Myer family, sitting alongside our team working together to deliver putting our customers first."

Gary Stones, Head of Retail Operations, Myer
2. Human Data Expertise
Some time ago, Evolved made the call that human insights would be our focus. We have developed specialist skills in analysing human data such as text and operational data from complex systems. We can make sense of complex human data and deliver legitimate insights that have commercial value.
Human data is often unstructured or semi-structured, and in the case of programs using Evolved's EVE Conversational AI chatbot, the volume of insight-rich verbatim requires sophisticated analytical tools.
Evolved is a leader in the field of text analytics, from which human insights can be uncovered. Auto-coding, sentiment analysis, emotional scoring, entity extraction and clustering are just some of the text analytics tools we use that are visualised within our HumanListening™ platform. We use bespoke dashboards, delivering quantitative and qualitative dynamic insights on the "What?" and "So What?", so you can focus on the "Now What?". This process is incorporated into reporting within our strategic market research projects.
3. Conversational AI Capability
EVE (Evolved Verbatim Engine) is, simply, the most advanced insights-specific Conversational AI chat technology available.
What is Conversational AI? Put simply, it is automated human-like interactions between computers and humans.
Our Conversational AI chatbot, EVE, replaces or augments traditional surveys, allowing customers or employees to engage with an inquisitive feedback companion using two-way conversation.
For example, instead of all customers getting the exact same set of questions no matter what concerns their answers raise, EVE analyses each individual answer given, and adapts the next question based on keywords found. EVE can be trained to focus on topics of interest with different routines to prompt and explore unexpected topics.
EVE offers true two-way conversations, coupled with automated insights, powered by deep learning. She is a game-changer in many areas of our work including CX, EX and Strategic Insights. This technology allows us to have qualitative capabilities at scale.
4. Commercial & Strategic Focus
Although our team has a diverse set of skills, we are all united by a single-mindedness around having an impact when collaborating with clients. We apply this in many ways by asking the right questions:
Why are we doing this?
What difference will it make?
How will it be used in this organisation?
Beyond the information, our emphasis on delivery is key. We know that content is important, although how you get your point across is a critical element of impact. Big-picture thinking powered by data.
Case Study: Quintessential Equity
"Evolved Thinking was engaged to work with QE in the delivery of this key research program to get a deeper understanding of our key customer groups – our investors and tenants. Their ability to take the results and communicate the insights into simple, clear deliverables is outstanding and has resulted in a clear action plan within the business."

Jen Dickson, GM Marketing, Quintessential Equity
5. Sector & Methodological Expertise
We pride ourselves in sector experience and knowledge. Whether its financial services, retail, health, education or FMCG, we have a team who know your territory. Our methodological expertise lies in:
Customer Experience – We offer end-to-end CX implementation, tracking, dashboard creation and strategic insights. We have developed industry-specific CX solutions for the retail and superannuation industries, as well as a broader solution for those managing contact centres.
Brand & Communication Research – Determining perceptions of your brand amongst both customers and prospects and alignment to your positioning is critical to driving long term success. We create Brand Tracking programs that fit your business' individual niche.
Market Exploration – Who are your customers? Which customers are the most valuable? How do you communicate to your various customer types? Through our extensive experience and analytical methods, we will uncover unique customer opportunities.
Strategic Ad Hoc Research – Our Evolved Thinking team creates bespoke and highly sophisticated research designs. From price testing and choice modelling to forecasting and experimental designs, we have a team of experts who have both applied the methodology and have the technical capability to incorporate our market leading insights technology.
"The team at Evolved Thinking consistently go above and beyond our expectations by delivering high quality insights that help us to improve our CX initiatives. Working with them is an absolute pleasure. Evolved were successfully able to confirm our hypothesis based on quality data, facilitating faster business decisions and reinforcing our ideas about our brand"

Laurie Hibbs, GM Relationship Operations, Judo Bank
Want to know more?
For more information about the Evolved Thinking experience, please email me at garreth@theevolvedgroup.com or head to our Strategic Market Research page.